History of The Rembar Co.
Rembar History
Situated near the Hudson River in Dobbs Ferry, New York, Rembar was formed in 1950 by P.W. Blackburn (1900-1992). Its goal was to fill the growing demand for refractory metals from industries of the time.
The company began as a distributor of molybdenum, tungsten, and tantalum. These were offered predominantly as wire, sheet, and rod for the power tube industry to be used in grid filaments, glass-to-metal seals, and support components for the high temperature elements of the tubes.
Since that time, Rembar has grown to become a principal supplier of refractory metals material and fabricated refractory metal parts to a large range of industries. These industries include medical, vacuum furnace, nuclear, ion implantation, electronics, defense, communications, chemical, filaments, glass manufacturing and aerospace among others.
The services we provide have also grown. As a result of long experience we have developed systems and procedures that give Rembar the capability to machine, form and assemble refractory metals into the most demanding customer designed components. The Rembar Company can offer almost any type of fabrication of a refractory metal that is possible, at the highest quality.
Rembar's stringent quality control standards and computerization of both design and manufacturing makes this possible. Inspection meets MIL-I-45208 and we have implemented relevant sections of the ISO 9000 manufacturing and inspection specifications. We are a US National Labs weapons approved fabrication company.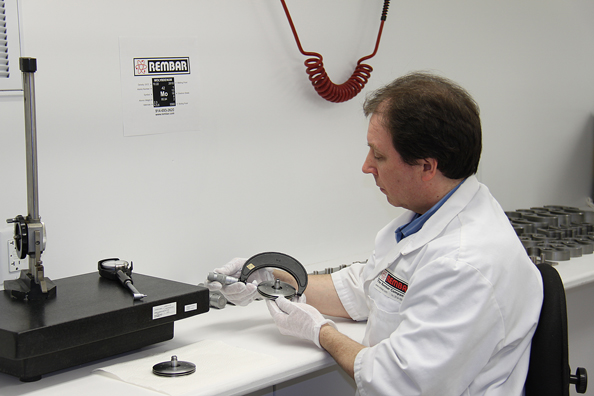 Manufacturing at Rembar has evolved from manual equipment at its inception 60 years ago to the present CNC turning and milling centers. We have met the further requirements of our customers with the addition of sinking EDM capabilities and CNC wire EDM. Conventional machining, forming, and assembly equipment support the more sophisticated equipment.
Providing additional manufacturing and design support is TIG and EB welding capability and multiple dedicated CAD/CAM systems. Of course, our people are always willing to provide both technical and commercial assistance to fully support design, manufacture, and supply.
As you might expect from the longevity of our company we are a good sized, well capitalized firm with many years of experience with refractory metals. Our experienced staff speaks your language when it comes to the applications for refractory metals. Customers return to us year after year for projects that others simply can't do, or can't do reliably. Our stock of material is one of the largest in the country.